Time of system implementing

Time of implementing means a period between the start of implementing and complete transition of a utility company into accounting with a billing system. Implementing of the system is not limited to software installation on the company's server and personnel training.
Time depends on clear technology and experience, data quality and type of solution. Technology of implementing a billing system for individuals is mach different from a billing system for legal entities. The difference that legal entities carry out payments for verified consumed services on monthly basis, but individuals pay according to customers books or to bills and do verification rarely (no fixed period for it is defined). Thus to implement a system for legal entities we should start with last confirmed balance, and for individuals we need to converse all not-verified history of payments (usually it is for several years). In case of failure to do this and to start from last closed period then during next 3-5 years we will have to conduct verification for every individual user using two billing systems, which is time consuming. Of course, import of all data for several years makes a conversion process complicated, but after it is completed the company can immediately transfer to a new system and this system will be effective.
Time for complete deploying a system for a regional size company (20-30 affiliated offices) including data conversion and quality of accounting recovery takes not more than 10-12 months including billing for individual users and legal entities.
Examlpe 1 (Time of system implementing)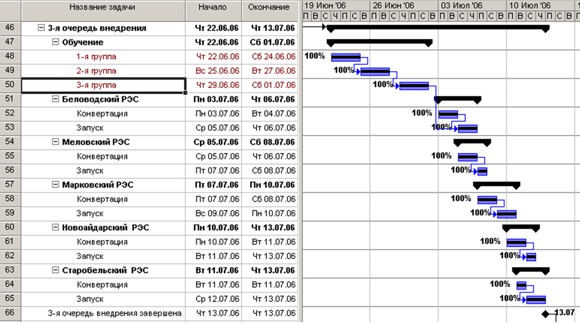 Examlpe 2 (Time of system implementing)